Fire And Safty
Offering you a complete choice of products which include Fire And Safty such as Mobile Chair and Mobile Wheel Chair.
Mobile Chair

We manufacture multi-purpose rechargeable-battery operated wheelchairs for senior citizens and disabled persons.
Steering is by hand - either left or right hand.
These mobile chairs are of the best quality and are low priced. This foldable motorised wheel chair is light in weight and easy to carry in a car.
The chair requires very low maintenance and minor servicing problems can be handled by the users themselves.
Battery drain is very low and recharge is required only after about 48 hours of regular use.
Please see the Video on U tube under mobile chairs.
Mobile Wheel Chair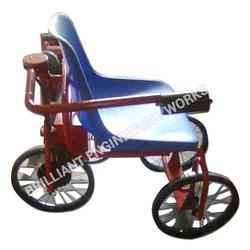 Item Code: MWC-00156
We are instrumental in catering to the diversified demands of the customers by putting forth an excellently designed array of Mobile Wheel Chair. Specifically designed in strict conformation with the global quality standards, the offered range is widely used in hospitals and varied medical institutions. Offered in varied finishes and sizes.
The range is acknowledged for the following attributes:
Easy to move
Comfortable
Sturdy construction
Light-weight