Popular Products
Eps box
Fiberglass meter box
Paper corrugated printed boxes
Brass jewelry box
Corrugated bin box
Toy packaging box
Company Name:
Harshad Packwell Pvt. Ltd.
Registered Address:
C - 7, M.I.D.C, Baramati - 413133.
Dist - Pune.
Maharashtra, India.
Ph No.: +91 2112 - 243724, 243725
Fax No.: +91 2112 - 243725
E-Mail: www.hpplbmt@yahoo.co.in
www.hpplbmt@gmail.com
About Us
We Harshad Packwell Pvt. Ltd., with the history of over 20 years are one of the leading manufacturers in Baramati, specialized in complete carton packaging and printing. Since 1955 we are into Letterpress i.e. Tradal printing, and have a good repute in it. Initially we were in the name of Kumar Printing Press and in 1989 we renamed ourselves in the industry by the name of Harshad Packwell Pvt. Ltd.
The manufacturing facilities are located in M.I.D.C. Baramati, with an area of 4000 sq. m, manned over 40 employees. We are one of the leading business providers for corrugated cartons and multi-color unmatched printing facility in and around Baramati. We have two major sections wherein primarily we manufacture products like export quality corrugated cartons, corrugated sheets, monolayer non-corrugated cartons, partitions etc and secondly we do commercial printing as well as industrial printing with various possible options which include all types of papers, laminated non-woven fabrics, poly foam bags widely known as X-Ray bag and sheets.
Our competency lie's in the water-resistant surface coating on the surface of paper that we provide which has helped the industry in many unimaginable ways. In whole of Maharashtra we are the only service providers for this facility, which is non-plastic, eco-friendly and food grade coating most successfully used for export quality cartons which have transit by sea or which are pre-cooled. With the state-of-art machines, technical competence, skilled and dedicated workforce, and swift and dynamic managerial backup and after sales service, we make miracles for the industry and achieve best results.
Major Products:
Printed as well as Non – Printed Corrugated Sheets & Cartons
Printed as well as Non – Printed Duplex Cartons
Commercial Printing
Nonwoven printed banners, posters and bags
Foam printed posters and bags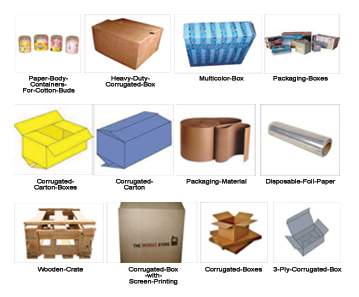 Unique Selling Proposition:
Water resistant surface coating – food grade and recycled
UV Coating facility
Aqua Coated printing facility
Multi color printing facility
High gloss and high matt lamination
Window lamination
Abstract as well as artistic designing
Objectives and Principles:
1. Consistency between individual & business goals
6. Long term targets
2. Identify key strategic activities
7. Commitment
3. Setting ethical standards
8. Excellence
4. Creating culture
9. Innovation
5. Success criteria
10. Privacy and Security
Vision, Mission and Values:
The company is committed to the principles of Value Based Leadership.
DELIGHT THE CUSTOMER: This is the main driver of our business. This value applies to both internal and external customers.
ENTERPRENURESHIP: The dreamer explores the idea; the entrepreneur goes ahead and makes it happen.
INNOVATION: Central to the success of our business
LOW COST PRODUCER: We benchmark ourselves against industry best practice.
OUR PEOPLE ARE OUR STRENGTH: Only by employing the best will we become a great company, we must create an environment for growth and development.
STRATEGIC ALLIANCES AND PARTNERSHIPS: Only through mutually beneficial relationships with customers, suppliers and team members will consupaq to its full potential. Safety, Health, Environmental and Quality Policy are Non-Negotiable.
A LEARNING ORGANISATION: Create an environment for individual and organizational learning.
PERFORMANCE CULTURE: Our Best might not be good enough - we need to do what is required to achieve our goals.