netCMS- Construction Management Software
Introduction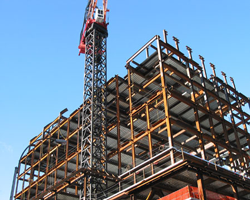 Construction management or Construction Project Management (CPM) is the overall planning, coordination, and control of a project from inception to completion aimed at meeting a client's requirements in order to produce a functionally and financially viable project. CPM is project management that applies to the construction sector.

Most common responsibilities of a Construction Manager fall into the categories like Project Management Planning, Cost Management, Time Management, Quality Management, Contract Administration, Safety Management, and CM Professional Practice which includes specific activities like defining the responsibilities and management structure of the project management team, organizing and leading by implementing project controls, defining roles and responsibilities and developing communication protocols.
Description
This software is designed for managing the construction expenses within the budget. System keeps track of the Estimates, Purchases & issues of materials to the site as per the phases decided by the user. Online inventory, purchases and consumption details of any material is given at any point of time. Minimum level alert for all the inventory items is maintained.
Features
» Project/Site: - Keeping Track record for various Project/Site.
» Estimation: - Separate Estimation for each Project.
» Material: - Easy to track the Issue,Transfer & Receive material.
» Generation Quotation: - Facility to generate Quotation, Estimation to suppliers.
» Order: - Facilities to issue finalize PURCHASE or WORK order.
» Backup: - Safe & secure backup facility.
» Data Migration: - Facility to Export & Import Data from Excel Sheets.
» Administration: - Facility for assigning privileges/access control to each user.