Our Products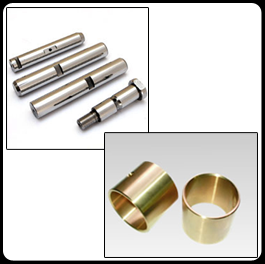 AARKAY Automotives Pvt Ltd is one of the leading manufactures of M.S. bush, M.S. pin, U-bolts, Jack rods and all types of Threaded components etc in India. We believe in providing world class automobile products that comply with OEM quality to our valuable dealers and customers.

We produce parts in compliance with national and international quality standards, thus they are valued greatly in the quality cautious bazaar. We offer products in assorted sizes and dimensions. Also the products are personalized as per the requirement of our client. Extremely consistent, robust structure besides high sturdiness is few of the exclusive features which is widely noticed in our manufactured products.

We create and supply high quality automobile parts at competitive price. We also supply vehicle component across various states in India. We take pride in manufacturing and supplying only ISO 9001:2008 certified and OEM services of U-bolts. We as well provide professional motor vehicle part with decent services to our dealers and customers. These enhanced grade heavy duty products cater to the application requirements of customers in automobile sector. Our team of professionals tests each part on distinct parameters of potency, durability, finish, heaviness etc before transferring it to clients.
Product List
» M.S Bush

» Pins / Forging Pins

» Jack Rod

» U-Bolts, Patti Clamps, Chasis U-Bolts

» Bolts

» Threaded Items

» Leaf Springs

» Trailor Shafts