Applicator
(A)

Microfiber is a yarn that combines wedge shaped polyester filaments and a core of nylon. It is made of 80% of polyester filaments and 20% of polyamide. One gram of Microfiber equals 45,000 meters of threads. The wedge shaped filaments follow the surface, trapping the particles inside the fiber and avoiding the need for cleaners and detergents. The combination of this special fiber and the splitting process enables the mass of finished fibers to produce a capillary force when the cloth is damp and, thereby, act like a magnet when cleaning.

Properties:
Microfiber leaves a clean streak-free surface.
No stain or scratches remain over surfaces after wiping.
It absorbs the water 100 times than the weight of itself.
Extensively washable.
Environment friendly, as no need to use chemicals for cleaning.
Easy to use.

2 W Magic Buffing Pad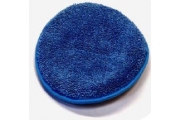 Description:
It is a fantastic innovation from Jopasu Systems which combines the cleaning & polishing properties of the Microfiber and uniform pressure of a sponge pad. Used to buff and polish after the residue is removed. It has a Velcro mounting and 6.5" size for buffing and polishing Two Wheelers. It is washable and re-usable a number of times.

Packing Available: One Piece

4 W Magic Buffing Pad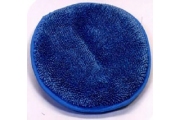 Description:
It is a fantastic innovation from Jopasu Systems which combines the cleaning & polishing properties of Microfiber and uniform pressure of a sponge pad. Used to buff and polish after the residue is removed.

It has a Velcro mounting and 8" size for buffing and polishing 4 Wheelers. It is washable and re-usable a number of times.

Packing Available: One Piece

2 W Terry Application Pad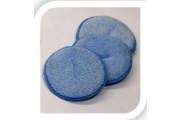 Description:
A similar product like Magic pad but using 100% cotton terry instead of Microfiber. Used for application of chemicals to the cars surface. Washable and re-useable for number of times thus decreasing the cost of application and consumption of chemicals. It is very economical as compared to the Sponge pad. 6.5" Velcro back for Two Wheelers.

Packing Available: Set of 3

4 W Terry Application Pad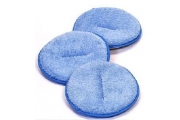 Description:
A similar product like Magic pad but using 100% cotton terry instead of Microfiber. Used for application of chemicals to the cars surface. Washable and re-useable for number of times thus decreasing the cost of application and consumption of chemicals. It is very economical as compared to the Sponge pad 8" Velcro back for 4 Wheelers.

Packing Available: Set of 3

Fabric Sponge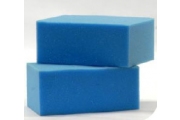 Description:
It is large size heavy Duty sponge that is used in Interior / Upholstery cleaning process. Very aggressive and highly absorbing are its properties.

Packing Available: Set of 2