Products
We design and manufacture process vessels for many of the process industries. Applications include pressurization, processing and storage of various liquids and gases. Some units are jacketed for heating or maintaining consistent and uniform temperature of the contents.

Pressure Vessels can be either vertical with leg or skirt supports or horizontal with saddle supports to suit the site location requirements. Vessels are fabricated from carbon steel, stainless steel and other alloy steels.

Designed, manufactured, inspected in accordance with the ASME Code Section VIII Division 1 & 2.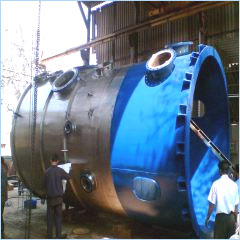 We manufacture custom designed production of API, liquid oral formulations, intravenous fluid line, injectables and other chemical products.

We design and manufacture wide range of equipments for this industry.

Features :
Magnetically coupled agitated vessels for vaccines.
Blending/mixing vessels for liquid oral, IV fluid, injectables and other liquid applications.
Storage tanks for water for injection and purified water storage systems.
Pressure vessel for various applications.
GMP reactors for crystallization, blending, heat transfer application with scrapper with agitator, anchor agitator, custom built
agitation solutions.
<
Sterilizers for intravenous system.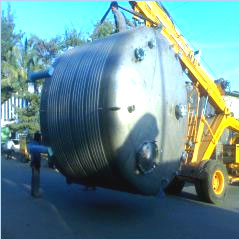 Jacket closure Ring Welding work is performed by using high grade filler rods to with stand closure ring tension. Inner shell of jacket in between inner shell and outer jacket to intensity main vessel and to provide uniform circulation and minimize stagnation of heating or cooling medium.

Welding work is performed by Argon Arc process using good characteristic filler rods on all S.S. parts. MS parts welding is performed by D.C. Arc welding process using suitable electrodes. Drive system is specially designed for maintenance free performance.

Application :

Jacket process Vessels of various types such as Limpet Coil, Jacketed body flange or welded type are used in various types of industries like chemical, food, drugs dyes and other industries. We manufacture process vessels with capacity ranging from 100 LTS to 20, 000 LTS in SS / MS.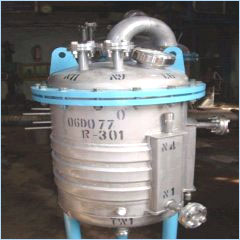 Reaction vessels made using the spiral technology are sturdy, temperature resistant and non-corrosive and almost maintenance free. For special purposes frp reaction vessels can also be used. We also provide complete reaction vessel assembly which includes m.s. structure required to hold the vessel, agitator and gear box assembly.

Capacity: 50 Ltrs. to 15000 Ltrs.
Material of Construction: Stainless Steel 304/SS316L quality.
MS/SS Jacket or limpet coil for steam heating / cooling. Reaction Vessel van be provided with different types of agitator like anchor type, propeller type, paddle type pitched blade turbine type of with high speed homogenizer.

Shaft entry sealed by oil seal, plain or water cooled stuffing box, single or double mechanical seal. High density glasswool insulation & S.S. Cladding can be done on demand.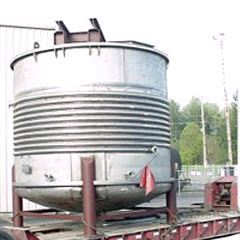 Our Process and Mechanical design teams can size the agitation requirements based upon the product specific gravity, viscosity and characteristics. We offer agitators with impellers of propeller, turbine, paddle, helical or anchor type configuration. For some specific high viscosity products such as grease lubricants, adhesives and polymers, double motion agitator arrangements are designed, using paddle-turbine and anchor stirrer designs. Our agitators utilize commercially available components such as motors, couplings, reducers and shaft seals.

Designed, engineered and manufactured to individual application specifications including pressure and vacuum condition and for ambient or elevated temperature service.
Fabricated from low and standard temperature carbon steels, 300 & 400 series stainless Steels.

Jacketed and coiled construction available for heating and cooling applications.

Available with single motion impellers-propeller, turbine, paddle, helical or anchor style or with double motion arrangements utilizing anchor style scraper agitator to clean the vessel wall and assist heat transfer and paddle impeller to increase product movement and achieve desired mixing homogeneity.

Standard Stuffing Box type Packing Gland Shaft Seals with or without water-cooling or Mechanical Seals.

Application Industry :
Petro-Chemical
Polymers
Coatings & Adhesives
Agricultural & General Chemicals
Plastics & Rubber
Food & Beverage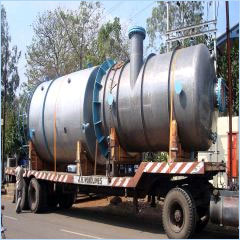 We offer wide range of storage tanks which have domestic as well as industrial usage. They are available in different shapes viz. elliptical, dished, flat or conical head as per the requirements of clients.

Specifications :
Material: stainless steel, 304, 321, 316l. Cladding plate of austenitic stainless steel
Temperature: -70 - 350oc
Pressure: -0.1 - 9.9mpa
Max. Volume: 100M3
Equipped with inside coil, outside coil, jacket or U tube