Cup Anemometer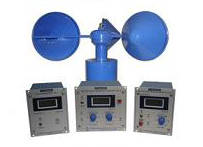 » Range : 5 TO 180 KMTR / HR.
» Supply : 220 OR 110 V AC 50 HZ
» Display : 3 - ½ DIGIT L.C.D.
» Temperature : 10° C TO 55° C
» Model CA-I : Wind Velocity
» Model CA-I / DIR : Wind Velocity and Direction
» Model CA-II / S : Wind Velocity with One Limit Switch
» Model CA-II / D : Wind Velocity with Two Limit Switches

Three conical beaded edged cups 127 mm. In diameters, attached by arms to a central boss drive a vertical spindle at a rotary speed proportional to the air velocity. (dimensions confirming to is 5912 : 1970).

Aluminum and stainless steel are used throughout this instrument to ensure freedom from corrosion and long working life. A conical shield protects the spindle and bearing from the rain. An electro magnetic transducer connected to the vertical shaft gives pulses proportional to the number of rotations of the vertical shaft.

Optional 4-20 ma output proportional to the velocity can be provided which can be fed to any data logger or plc.

Optional Alarm / Trip: Instantaneous value is compared with one / two Limit settings and gives visual indication as well as Relay output change over when the instantaneous value exceeds the set limit.