Electonic Anemometers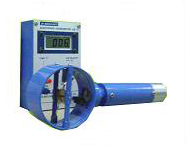 Range
» Air Velocity : 0.25-15 mtr/sec (Least Count : 0.01)
» Extended To 50 mtr/sec on request (Least Count : 0.01)
» Air Temperature Measurement (Optional) : 0-100°C

Operationg Temperature :
» 0 - 55° C For continuous use
» 0 - 100° C Instantaneous Reading

Instrument For Higher Temperature Offered
This sophisticated instrument is designed with totally indigenous technical know-how and components. It directly reads the rate of flow of air / gases.
Most of the instruments available in market are made of plastic. These, though efficient under laboratory conditions, often give away for industrial applications, braking the blades / shafts.
ACD Rotating Vane Sensor is totally made of metal parts and can stand to rigorous industrial conditions. It consists of a Chemically Etched Stainless Steel Turbine, fitted on a Brass shaft with Stainless Steel pins, which is pivoted on re-enforced Jewel Bearings, making it extremely sensitive to minute changes in the air-flow. All other parts are of Aluminum.
Non-contact transducer is insensitive to vibrations, dust, temperature, humidity, and ultrasonic radiation.
Optional facility for air temperature measurement can be incorporated in the same instrument.