Rotary Vacuum Drum Filter
We are prominent and trustworthy manufacturer and supplier of top quality range of Rotary Vacuum Drum Filter. This drum filter is manufactured using highly advance techniques & quality material for fulfill the requirements of our customers. Also, our offered drum filter provides operating flexibility to handle dewatering, washing. Customers can avail this drum filter from us at competitive rates.
Features :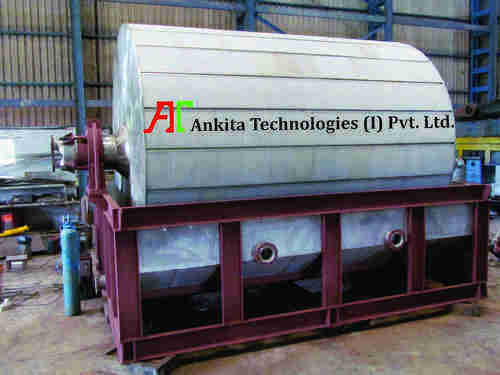 Ease of use
Precisely engineered
Hassle-free functioning
Other Details
Drum :
The drum is supported by a large diameter trunion on the valve end and a bearing on the drive end.
The drum face is divided into circumferential sectors each forming a separate vacuum cell.
The internal piping that is connected to each sector passes through the trunion and ends up with a wear plate having ports that correspond to the number of sectors.
Valve :
A valve with a bridge setting controls the sequence of the cycle so that each sector is subjected to vacuum, blow and a dead zone.
When a sector enters submergence vacuum commences and continues through washing, if required, to a point that it is cut-off and blow takes place to assist in discharging the cake.
The valve has on certain filters adjustable blocks and on others a fixed bridge ring.
Adjustable bridge blocks enable the optimization of form to dry ratio within the filtration cycle as well as the "effective submergence" of the drum when the slurry level in the tank is at the maximum.
The majority of drum filters have a valve with three bridge blocks and a single row pipe plate as shown below and on the right.
The duty of the bridges is: Vacuum and blow zones separating bridge. This bridge cuts off the vacuum so it is slightly wider than the internal pipe port.
Dead zone bridge: This bridge opens to vacuum once a compartment submerges.
Start-up assist bridge: At start-up the upper vacuum zone is open to atmosphere and a cake may be formed only when closing the valve that controls this zone.
Once the cake starts to emerge from the tank the valve is gradually opened and fully opened when the entire drum face is wrapped with the cake.
Since in continuous operation both lower and upper zones are under vacuum this bridge is slightly narrower than the internal pipe port so that the vacuum is continuous and the cake is held onto the drum.