Spin Flash Dryers
To fulfill the divergent needs of our valued clients, we are betrothed in offering Spin Flash Dryers. Use for continuous drying of cohesive and non-cohesive pastes, these dryers are developed by using supreme quality material & coated with powder from feed, which is viscous. Offered dryers are highly applauded for its flawless range. We are giving these dryers to our patrons in customized options.
Features :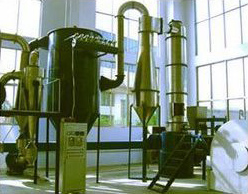 Require less maintenance
Easy to operate
High efficiency
Other Details :
Function and principle of operation Spin Flash dryers are designed for continuous drying of cohesive and non-cohesive pastes and filter cakes, as well as high-viscosity liquids.
The main components in a complete Spin Flash Drying System are a feed system, drying chamber, bag filler and Exhaust Blower.
The feed system consists of a feed vat where a discontinuous flow of product is buffered and fragmented by an agitator prior to continuous drying.
A variable speed feed screw (or pump in the case of fluid feed) forwards the product to the drying chamber.
Drying chamber The disintegrater at the base of the drying chamber fluidizes product particles in a drying-efficient hot air flow pattern in which any wet lumps are rapidly disintegrated.
Hot air is supplied by a temperature-controlled air heater and speed-controlled fan, entering the drying chamber at a tangent in order to establish a turbulent, whirling air flow.
Airborne, fine particles pass through a classifier at the top of the drying chamber, while larger particles remain in the air flow for further drying and powdering.
The drying chamber is rigidly designed to withstand pressure shock in the event of explosive combustion of flammable particles.
All bearings are effectively protected against dust and heat.
Bag filter Powder from the drying chamber is collected in a bag filler, while the outlet air leaves the system at the top via a suction fan.