Rotary Vacuum Dryer
Rotary Vacuum Dryer offer clean, simple and effective method of drying wet cake, powder and even slurry. Labor and energy costs are minimal compared to tray dryers and product losses during handling are also negligible. Additionally valuable organic solvents can be conveniently condensed and recovered.

Working Principle
The drying in a rotary vacuum dryer is a batch operation under vacuum. It is possible to dry heat sensitive materials at well below boiling points of water and solvents. Drying time depends on material being dried, amount of solvent or water to be removed, desired final moisture content, permissible jacket temperature etc. The dryer is available in sizes ranging from 100 liters to 20,000 liters gross volume. The volume of wet material loaded into the dryer is usually restricted to 40-45% of gross volume.
Salient Features :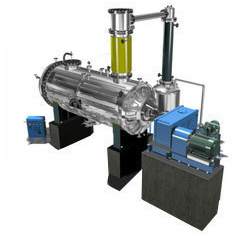 Equipped with different designs of agitators depending on the material to be dried.
Unique quick opening discharge valve permits direct packing of dry product into bags or drums.
Breaker rods are provided to prevent lump formation and allow quick and complete drying.
Shaft sealing by mechanical seals is also available.
N2 pulse jet dust filter (self cleaning type).