Our Services
AMC Service
Without service and maintenance even the best fire fighting equipments might fail to function when required.

A service and maintenance contract could Reduced risks of failure of equipment when the need arises - saving your investments and your business.

Extended life from your equipment due to preventive maintenance visits.

Compliance with local fire office and insurance company requirements.

We offer a single maintenance contract for all the fire safety equipments/ systems installed in your premises - portable fire extinguishers, Automatic Fire Alarm Systems, Water based Fire fighting system, Gas based automatic flooding systems, Emergency lighting, Emergency Evacuation signages etc.

There are clear advantages by going for a single contract. The most important is the peace of mind that will come when you know that there will be no gaps or overlaps in your fire protection due to various agencies sharing different tasks.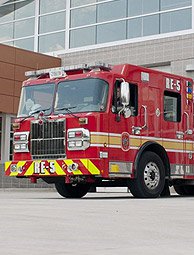 Refilling
The servicing, hydro testing and recharging of fire extinguishers is a specialty because it's the quality of service on which depends the working of a Fire Extinguisher at the Time of Emergency. So, we try to offer to our clients the best of our services in order to create a trust relation between equipment, which we service, and our clients.

We have a manufacturing and service plant with an area of 1,000 sq. Meters, stock of various machines, tools and test equipment and procedures for manufacturing and maintenance of fire extinguishers.

Our Plant is Approved by Mercantile Marine Department / Directorate General Of Shipping (MMD / DGS), American Bureau of Shipping (ABS), Germanischer Lloyd (GL), Chief Controller Of Explosives (CCOE), Bureau of Indian Standards (BIS).

Apart form riffilling of Fire Extinguishers we also undertake the following jobs:

Fixed Fire Fighting Installations Maintenance :
As an added value, we offer maintenance of fixed installations on board Ships, Offshore
Platforms & Oil Rigs, and also onshore installation. Below there are some of them :
Fixed Gas based Systems viz., CO2, Halon, FM200, etc.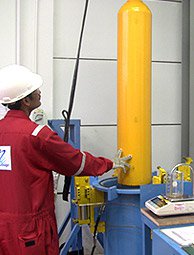 Weightment of Gas Cylinders.
Blow through of System piping.
Hydro Testing of Gas Cylinders as well as piping if due.
Servicing of Valves, NRV, Pressure Switch, etc.
Calibration of Pressure Gauges.
We maintain spares for various gas-based systems.
Fixed Dry Chemical Powder System (DCP Skids)
Fixed Foam System
Hydrant System
Sprinkler System
Fire Alarm and Fire Detection System
Our staff is carefully selected to give to our clients the service they deserve. Our main concern is to train all the staff from different departments. This area is very important in the company planning.
Training
We give intensive counselling for our customers fire safety provision.
Basic Fire Fighting Tips.
Fire Prevention Check Lists.
Fire Hazards And Tips.

No matter the size of your business employees are required by OSHA to be trained on the proper use of your companies installed fire equipment. We can provide outdoors and classroom training providing valuable education to employees on how to use your First Line of Defense. We can customize a training program to fit any size of group or requirement.

We provide you and your staff with the latest information regarding fire safety in the workplace. Our training packages comply with current fire legislation the Regulatory Reform (Fire Safety) Order 2005. In addition to this it meets the standards set by the amended 1999 Management of Health & Safety regulation. Our two main fire training courses that we can provide at your location are; Fire Marshal and Staff Fire Awareness Training.

Fire Marshal Training : A certificated course that defines, assists and instils confidence to those people who have a key role with the management of fire safety in the workplace. This course covers both emergency and none emergency issues for this vital role.

Staff Fire Awareness Training : A certificated course, for all employees, where they receive expert tuition on how to reduce fires within the workplace and what their actions would be upon hearing a fire alarm actuation or upon discovering a fire.