Suppression Systems
Clean Agent Suppression Systems using HFC227EA gas - Tyco Safety Product's FM200® systems are based on many years experience in the design, supply, installation and commissioning of gaseous fire fighting systems. During this time Halons have provided industry and commerce with a unique and versatile extinguishant to respond to most fire protection needs. The Montereal Protocol presented the fire protection industry with a most demanding challenge - to find a replacement for Halons. One of solutions offered by Tyco is FM200®. FM200® (HFC 227ea) is known chemically as Heptafluoropropane and is manufactured by Great Lakes Chemical Corporation. FM200® is a colourless gas which is liquified under pressure for storage. Like Halon 1301 it has a low toxicity level and is superpressurised with Nitrogen to 24.8bar (360psi). It rapidly extinguishes most commonly found fires through a combination of chemical and physical mechanisms.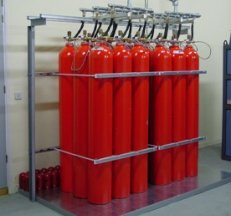 Carbon Dioxide suppression - What is CO2 Fire Suppression? This is the most efficient of all fire suppression systems on the market today. It suppresses a fire by cooling and asphyxiating the fire, thus removing the essential oxygen and heat it needs. CO2 fire suppression systems are an ideal solution for local fire suppression applications. This agent is suitable for both local applications as well as total flooding applications. The CO2 fire suppression agent is one of the oldest and most effective fire fighting solutions used within this industry. Applying safe and correct designs, including all safety procedures, this fire suppression system is the most effective solution available for most applications. CO2 fire suppression systems rapidly cool the risk within the first minute of discharge, then an extended discharge removes oxygen and effectively INERTS the protected risk. When CO2 systems are activated, the agent becomes white as it condensates in the warmer protected environment. The condensation clears overtime and the CO2 gas becomes invisible. Due to the colourness and odourless charactoristics of the gas, it is essential add odourisers to the discharge pipe work so that the agent is scented as the CO@ system discharges into the risk.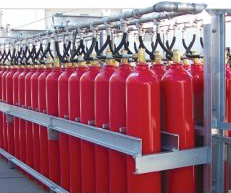 Clean Agent Suppression Systems using Novec 1230 Fluid - 3M™ Novec™ 1230 fire protection fluid is a next generation clean agent Halon alternative. It combines outstanding extinguishing performance with an excellent environmental profile. Novec 1230 fire protection fluid has zero ozone depletion potential, a global warming potential of one, a five day atmospheric lifetime, and a large margin of safety for occupied spaces. Novec 1230 fire protection fluid extinguishes fire primarily by removing heat from the fire. It is also electrically non-conductive.